I've got a couple of talks coming up in the next while, and I'm posting them here for people who don't read the miniblog on the right hand side of the page (it's the best thing about this site, much better than my rambling blog posts) and aren't members of the miraculous facebook group which Shalinee Singh very kindly helps to update.
One's in Oxford this Friday, the other is in Cambridge on Tuesday, both are free (the Oxford one is a quid, I think so they can count numbers or something). And then there's this extraordinary string of godless christmas shows pasted below that. I can "reveal" – unexclusively – that Mr Richard Gervais will be the special guest.
Me and Robin Ince are planning something regular, special and fun on a related theme which I think will rule, more to come on that in the next month or so. Oh, and the podcast is coming soon, lots recorded already, I want to have a few in the bag and then will start to post them. It will be very good.
Journalist and doctor Ben Goldacre is visiting the Oxford Cafe Sci to discuss his pet subject, 'bad science'. Important: We are moving the Cafe to a different day of the week – Friday – and a different location – the Martin Wood Theatre – temporarily to give Ben an opportunity to speak to a larger than usual audience, though it will be a Cafe Scientifique and all questions are welcome. Click on the link above to see more, and for links to a poster and flyer you can download to put up on noticeboards. Blackwells are selling tickets for a nominal charge so that we know in advance how many will be attending. Ben will be signing copies of his new book of the same title, after the Cafe has finished.

The date: Friday October 17th 2008
The time: 7 pm, location the Martin Wood Lecture Theatre, Clarendon Laboratory, Parks Road, OX1 3PU. Please buy tickets (only £1 each) from Blackwells Bookshop, Customer Services second floor main bookshop, Broad Street, Oxford, or ring 01865-333623. We will post a notice here if the event sells out: returns will be available on the door. All welcome, no scientific background required.

For the Martin Wood Theatre, those arriving by car should park on St Giles (near the Lamb and Flag), or on Keble or Blackfriars Road (free after 6:30pm), or in nearby North Oxford roads, then walk through to the venue. There is no parking allowed on-site because it is a private university venue. The nearest bus stop is on Banbury Road. See this Google Map for exact location. Entrance is via a large door at the right-hand front of the Clarendon Laboratory. Wheelchair access is available.

Ben Goldacre in Cambridge Tuesday 21st October

For those of you who enjoy Ben Goldacre's Bad Science column in the Guardian, now is your chance to meet him in person. Ben is talking about "How the media promote the public misunderstanding of science" on Tuesday 21 October (next week) at 5.30pm in the Babbage Lecture Theatre, New Museums Site, Cambridge. It's a free public lecture and everyone is welcome, just turn up on the night.

The lecture is brought to you by Understanding Uncertainty, the Winton programme for the public understanding of risk at Cambridge. You can read more from the Understanding Uncertainty team on their site, or in their column on Plus.
Christmas Madness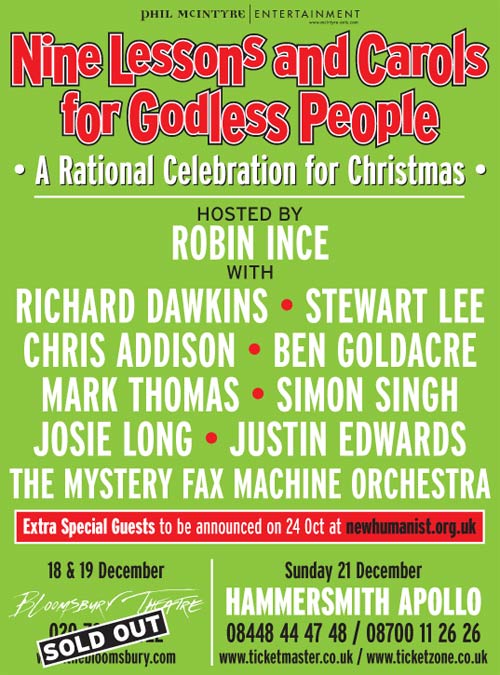 Oh, and School for Gifted Children on the 29th October
Which will be here, but it doesn't seem to be on their website. So don't hold me to it.